Sale!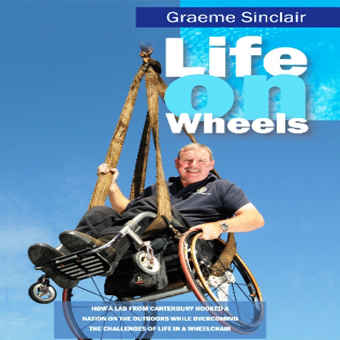 Life on Wheels
Life on Wheels By Graeme Sinclair
Product Description
In Life on Wheels Graeme Sinclair, producer, writer and star of the ever popular Gone Fishin' series, writes candidly about his life and career.
While many of his younger fans have only ever known him in a wheelchair, for the first 40 years of his eventful life he had the full use of his legs.
Struck down unexpectedly with Multiple Sclerosis in his forties, instead of allowing his misfortune to dominate his life, he carried on as normal, only now on wheels.
This presented some interesting challenges, filming and travelling to make the TV show.
A hero to his younger viewers through his Kid's Gone Fishin' and the NZ Police blue light programme,
he puts his ability to relate to kids down to the fact he is at their height and they can look him directly in the eye!
Talking about his upbringing and his own children will strike a chord with any parent.
His love of the New Zealand outdoors and its ability to heal the spirit and his willingness to talk about the tough times,
as well as the good, will reveal facets of this multi-talented man to his audience that they can never have imagined.
Each copy ordered online is post inclusive and individually signed by Graeme.