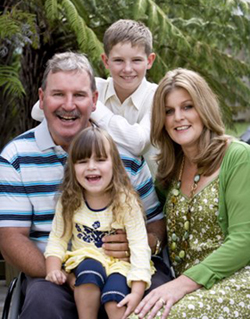 As Managing Director of Frontier Television (NZ) Ltd, Graeme Sinclair continues to produce the popular TV series Gone Fishin', which is now in its 25th year on television.
Alongside "Gone Fishin", Graeme has completed two seasons of thirteen one hour shows called "Ocean Bounty", which focuses on stories and innovations around the commercial fishing industry.
Graeme has spent most of his formative years involved in outdoor pursuits both recreationally and professionally; fishing; hunting; as a white water rafting guide; diving instructor; and skiing to name just a few activities. He also developed and ran outdoor management and team-building courses.
Even now, having been diagnosed with Multiple Sclerosis, Graeme does not let being in a wheelchair stop him. He continues to do as many of these activities and more!
Graeme has written and published many books to date including "New Zealand - A Wild Place to Play"; "Gone Fishin"; "Gone Fishin – In Search of the Anglers Eldorado" (to commemorate 75 years since Zane Grey's arrival in NZ); "Gone Fishin The Cookbook I, II and III"; "Gone Fishin for Big Fish"; "Still Fishin"and his most recent "Life on Wheels".
His passion for writing has been expressed in many popular magazine publications including "Australian Women's Weekly", "Coast to Coast Magazine", "Fishing News Magazine"..
Graeme continues to support the show sponsors and others with many speaking engagements, hosting fishing trips on Charter vessels, function MC, product and sales promotion, store appearances etc.
He has used the challenges of life in a wheelchair to become a worthy motivational speaker to others.See Graeme's biography linked below for testimonials.
Please contact us at Frontier Television if you are interested in Graeme speaking for your company or club.
Through Frontier Television, Graeme has produced a number of documentaries ie "Dive - Treasure from the Three Kings" and "Antartic Encounters" featuring the Colossal Squid.  In 2017 he produced a 13 episode, hour-long series called Ocean Bounty, predominantly on commercial fishing but also about the environment, science and the nature of a shared fishery.
He also produced his first Inside New Zealand documentary "Fiordland - Coastline of Adventure and presented the Inside New Zealand doco "The Big Catch".
"Graeme's Fish Tales" a one-hour documentary screened on TV3 as did "Graeme's Biggest Fish Tales" also a one-hour documentary.
He is nationally involved in attending "Kids Gone Fishin"; a charitable event, in conjunction with Police Blue Light, involving a fun day of  fishing for children, some who are picking up a rod for the first time.
These events have now been running for over 20 years and are becoming increasingly popular with up to 2000 children attending the bigger events.
Through his involvement with Kids Gone Fishin, Graeme has been appointed a Patron of Police Blue Light.
In the 2009 Queen's Birthday Honours, Graeme was appointed by Her Majesty the Queen, a Member of the New Zealand Order of Merit [MNZM] for recognition of services to Television.
Graeme is also a Trustee for the Southern Seabird Solutions Trust.