SAMOA 2013 – AGGIE GREYS LAGOON BEACH RESORT & SPA
Being School Holidays the flight over on Virgin Airlines was very full, however, the staff were extremely accommodating and looked after us beautifully the whole way.  On arrival in Samoa you need to take a relaxation pill which generally takes affect after 24 hours.  However, ours worked almost immediately on arrival at AGGIE GRAYS LAGOON BEACH RESORT AND SPA. 
http://www.sheratonsamoaaggiegreysresort.com/
We were quick to head for the bar for a compulsory cocktail round and light meal, as we allowed the tropical balmy heat to absorb into our winter worn bodies.
ACCOMMODATION:
Most units have a beachside outlook with outdoor seating areas on each to enjoy the ocean breeze and outlook.  The rooms are very roomy.  We had a great wheelchair access room with a bathroom well set up for all Graeme's needs; a fold down seat in the shower, bars and grip railings all round, and even the bed work; a not too soft bed at wheelchair height!.  Getting around the resort was easy with pathways to most areas and few steep grades.
The staff are always quick to give you a hand if needed.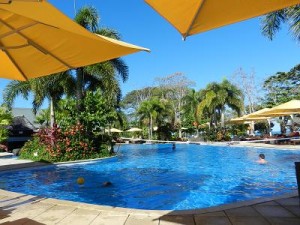 Our children, and their friends turned into fish while we were at Aggies. Hours upon hours of pool frivolity over the entire week was clocked up by them in the pool.  The pool is a good size and set out in a lush tropical plant jungle. There was always a lounger and umbrella to relax under, and when it all got too hot, into the pool to cool in the poolside bar enjoying one of the daily cocktail specials on offer... now that's "happy hour".
The kids also enjoyed the other activities available at the resort including the kids' club.  Here they learned new dances and beautifully dressed Island style - they delighted us all with a fabulous stage performance.
EATING:
With 5 restaurants to choose from there is always something to suit the appetite.  Our favourite was the exquisite Japanese Restaurant set at the entrance to the resort.  A balmy evening retreat, where the food is freshly prepared in an open restaurant setting, see it - eat it - love it! Kids loved the Italian restaurant where the pizzas and non alco mocktails were a hit.
Aggie Greys also do weddings and we were lucky to enjoy seeing one such celebration take place there.  What a spectacular memory this happy couple will have.
FISHING
NOW THE FISHING! ...leaving late afternoon it was not long before dusk, while trawling the inner reefs, when things got fast and furious fighting tropical barracuda and dog tooth tuna was great fun. The best day out took place at a FAD (fish aggregating device).
We had trawled lures around this area the day before, and not managed to hook up on anything, which was unusual.  However, it is now rare to catch Yellow Fin Tuna.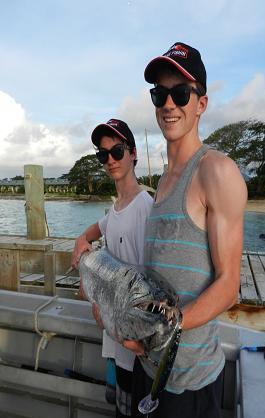 Samoa does not dissappoint with fishing variety, however, insurance on a great experience is going with Skipper "Jonathan Barlow" of  EXTREME MEASURES FISHING AND DIVE CHARTERS.  Having lived in Samoa for a few years now, he has accumulated great local knowlege on best fishing spots, and will work around your fishing expectations. He also does overnight trips.His  boat is well set up and allows a comfortable day out on the waters whatever the conditions.
Email:  www.extrememeasures.co.nz
To Book or Enquire: Divefishsnow.co.nz/fishing/samoa
Extreme Measures Fish & Dive Charters
Email:  www.extrememeasures.co.nz
Phone: Samoa: +68 5 722 2190      New Zealand:  +64 9 439 7612    New Zealand Mobile:  +64 27 437 3566
You can share this story by using your social accounts: