SAMOA 2012 – EXTREME FISHING AT SINALEI REEF & SPA RESORT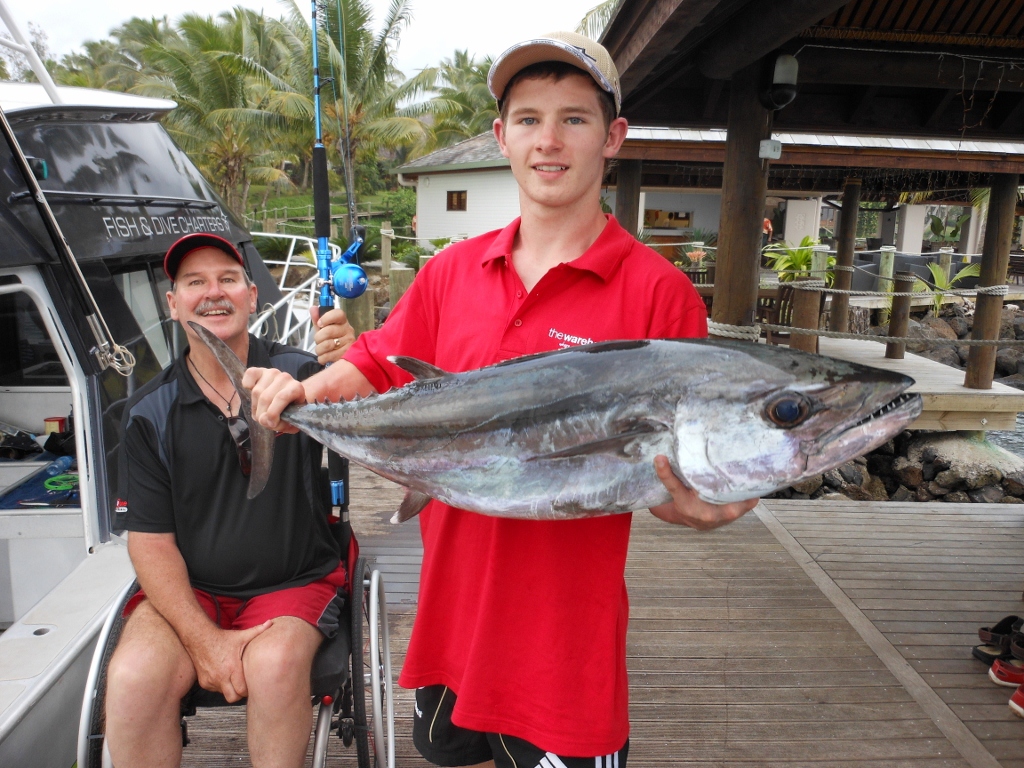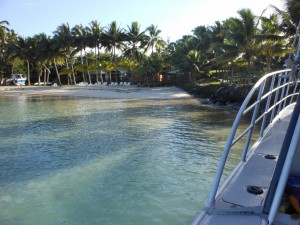 SAMOA 2012
EXTREME FISHING with SINALEI REEF RESORT & SPA
Based on the South Coast Upolu
Accommodation:
Sinalei Reef Resort & Spa www.sinalei.com
Luxury individual units ensure privacy and comfort.  The resort is well kept with beautiful established tropical gardens all round, and most units have a look to ocean.  Each unit has a lovely deck to relax or sunbathe in privacy from.  Getting around the resort was easy along paved trails to most of the units and main facilities.
Accessibility:  
Although the unit we stayed in was not set up formerly as a disability unit, it was ramped for easy access from path to deck.  The bathroom was large, with good shower facility, however, there were no bars, hand grips, support rails or seat available in the toilet or wet area.  The owners were made aware of these issues, and encouraged that they are upgrading some of the units in the near future to this standard.
Food & Entertainment:

If it's variety you like, than this is well covered at the Sinalei with a colourful and extensive menu. The Island night is a must do.  The food on this occasion is styled from local favourites like seared octopus in coconut cream, baked taro, coal roasted suckling pig.  This buffet is a great introduction to the unique blend of island flavours and local produce.  The show that takes place around this feast is not to be missed;  fabulous entertainment - The fire dancing will blow you away!!
On a daily basis you will be hard pushed to leave the seaside ambience of the waterside restaurant. Here, we were able to have our catch of the day prepared for us.  Our favourite dish was seared wahoo served with fresh island salad, wasabi, and ginger – sashimi style with a twist!  Being so fresh this was unmistakably our favourite way to eat!.
Alongside the fishing, take advantage of the oppportunity to unwind in the idyllic spa room with a massage or treatment. For a simpler day, just relax and enjoy a good book in the tropical ambience of the pool area, or on a beachside lounger.
If you are able to hire a car, you will easily fill your day with much to do.   My favourites included visiting the produce and fish market; Agi Greys house;  turtle feeding; and it is a real must to take a swim at the    ....waterhole!
Fishing:
Reef Fishing, Deep Sea & Game Fishing, Diving, Spearfishing
To Book or Enquire: Divefishsnow.co.nz/fishing/samoa
Extreme Measures Fish & Dive Charters
Email:  www.extrememeasures.co.nz
Phone: Samoa: +68 5 722 2190      New Zealand:  +64 9 439 7612    New Zealand Mobile:  +64 27 437 3566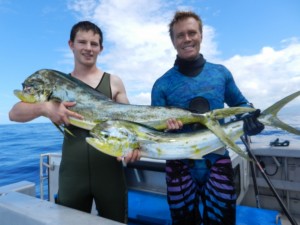 The boat is moored directly off the end of the pier at the Sinalei for access and convenience to the resort facilities.  Jonathan is an experienced and confident skipper, and utilises local deck hands who will go out of their way to ensure you achieve your catch of the day.  The fishing is plentiful and varied;  Mahi Mahi (Masi Masi), Wahoo, Dog Tooth Tuna, Yellow Fin Tuna, are among some of the likely fish you may catch, or you may choose to chase a Marlin.. which again are plentiful around.... time of the year.  You will likely see dolphin and various whales including humpback as you cruise the fishing grounds.  The fishing area includes a FAD where you may choose to go overboard for a dive, or Jonathan has a few great spots plentiful in crayfish etc.. that he can put you on for a great day's spearfishing!  Cruising in for some reef fishing you will struck by the beauty of the shoreline;   Lush green forests meet ocean.  Rock cliffs rise up from the sea, moulded by the pounding wave, which crash constant and merciless in a methodical surge for the shore.  There is a huge reef break fringing most of the coastal area where the Dog Tooth Tuna and Wahoo lurk. As the boat manoeuvres around these reef beds you will be thrilled by the spectacular swells of water rising up into powerful waves.  Great surfing opportunities for the brave.
For more information or to book your fishing/holiday package with Sinalei please contact Markus at Dive Fish Snow Travel now on:
email:  markus@divefishsnow.co.nz
web: divefishsnow.co.nz/fishing/samoa   divefishsnow.com.au/fishing/samoa
Or call:  0064 9 918 5518
Tollfree NZ: 050508 348 334    Freephone AU: 1800 042 195
You can share this story by using your social accounts: