NORFOLK ISLAND FISHING ADVENTURE
NORFOLK ISLAND FISHING ADVENTURE 2012
Flying Air New Zealand to Norfolk Island...
What a great break away! so relaxed and such variety in restaurants and cafes to try out.  Fishing was a blast! Hire a car to get about, although most things are not far.  You will be competing on the roads with cows swaggering along the edgings, and pot hole dodging is a fun pastime.  The fooooood! You will go home with excess luggage – be it the restaurants and cafes or the duty free shopping extravaganza.  
Accommodation:       
Governors Lodge Island Resort
www.governorslodgeresort.com
Phone:  +67232400
Our third time here – and always well looked after.  They have all you need here from great accommodation, fabulous food, and relaxing by the pool.  Roomy separate bedroom units allow for a comfortable stay over, and private space. There is microwave cooking facilities etc.. and fridge in the unit for food storage.   The resort is well established and carefully maintained tropical gardens create peaceful ambiance throughout the resort.  Getting around is easy with concrete pathways to all facilities.
Accessibility:
Governors is the only fully accessible accommodation on the island.  Ramped access made entry onto the deck and into the unit easy.  Nice to be in a unit with a separate bedroom off the lounge.  There was a foldaway couch bed for our daughter.  The accessible bathroom is a good set-up with hand grips and rails, fold down shower seat.
Eating:
You need not go too far for food.  In the morning breakfast is served in the roomy cafe.  We ate mainly off the menu with goodies like eggs Benedict, pancakes etc... – all superb! Also available is a simple continental set-up  with stewed fruits, cereals, and toast with condiments, coffee and tea.
Lunch and dinner is served at the in-house restaurant and you will enjoy great fresh food here.  This is not open every night which gives the opportunity to venture further afield and try one of the many popular restaurants.
For consistent hearty food, we visited the very popular RSA.  Although very roomy it is very popular so pays to book a table or arrive early for dinner.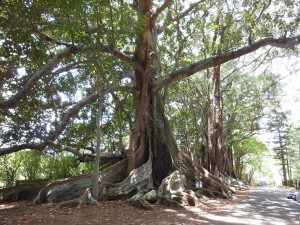 Norfolk Blue is a must. The restaurant is a wee drive out of town but so worth it.  On arrival you will be impressed by the beautiful Morton Bay Fig Trees that tower overhead with long outstretched limbs, and a wave of roots to climb over make for great photos.
The cottage setting could not be more relaxing.  Great service and the food is simply devine.  They beef is sourced directly from the property with the namesake "Blue" cows.  Make sure you leave room for the wonderful desserts. www.norfolkblue.com
For something different and the best tasting platter to wash down their own label wine or port, try Two Chimney Winery. www.twochimneywines.nlk.nf
Things to Do:
As a family destination Norfolk is the ideal place to get away.  The short flight is already a plus.  Quit the bustle and crowds, put the technology babysitter to one side and enjoy some quality time together.  There is a free "walk in the wild" forest experience for the kids, play giant chess, capped by some mini-golf etc..  The shopping is condensed and they have a great toy store packed to the rafters with goodies for kids.  The shopping is in AUS$$ and duty free.
Emily Bay is a popular local spot to take a picnic or BBQ so in weekends is reasonably busy.  The golden sands beach is enclosed within a reef barrier, so ensures a safe swimming area for kids. There is a great swim platform located out from the beach for the kids to dive off.  There is great visibility so snorkelling is a delight amongst the coral where the coloured tropical fish, starfish, and various anemones lurk.  A glass bottom boat does half hour trips out in the bay for those who don't want to get their feet wet.  The kids on our trip marvelled at the baby stingray burrowing in the sand for food.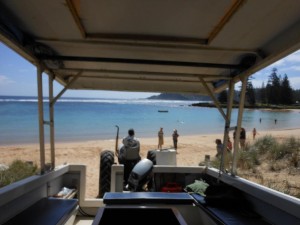 Other opportunities include site-seeing historical buildings and a history visit to the museum.  There's a great photo library to take you through the foundations of the Norfolk community, whaling days, colonial experiences and more...
There is all sorts of activities that can be organised through local tour operators.  Or you may choose a few quiet rounds of golf or a bit of horse-riding.  One evening you must join the Fish Fry on the cliff top as the sun sets! great local food with a bit of entertainment to enjoy while you are there.
The island has a host of fabulous forest and coastal walks ranging in time, and walking abilities.  The beauty and peaceful nature of Cooks lookout will blow you away and is a favourite spot for me.  The island will inspire photographers.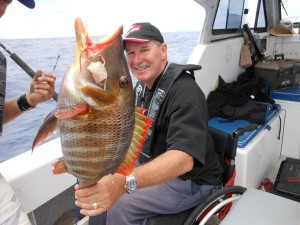 FISHING:
Great abundance!  The local fish trumpeter puts up a good fight similar to a snapper, and great to eat! Kingfish, Trevally, etc..  You will be well looked after, whoever you choose to charter from the local
listings.  Fishing Norfolk is a real experience with the boats being crane lifted in and out of the tide directly from two wharf locations.  You will not be disappointed in a day or two out and about.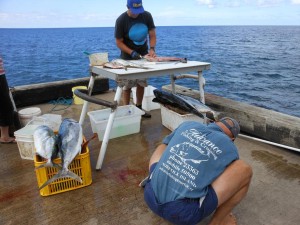 We recommend Darren Bates of Advance Fishing Charters
Phone:  +672323363 or email: advancefishing@norfolk.nf
If you would like to book a holiday break for you, or your family to share, you will not be disappointed in what Norfolk has to offer you.
For more information or assistance in organising your travel arrangements and please contact:
Tania Anderson
NORFOLK ISLAND TOURISM
Ph 0800359437
www.theworldofnorfolk.com.nz
WWW.NORFOLK.COM.AU
Or
Susie Williams
Sales Manager - Hogan & Associates
Ph (09) 4897844 
Mob 0210460606 Fax 09 4897845
Email susie@hoganreps.co.nz       www.hoganreps.co.nz
You can share this story by using your social accounts: